Today on the PoliBlog, an exclusive interview between Barbara Walters and PoliSub member Andrew Butler about his recent box-office hit.
BW: Andrew, tell us, why have you been so quiet about this amazing accomplishment!?
AB: Well, Barbara, usually I don't like to talk about my other projects on PoliSub's site, but everyone kept bugging me to speak out about my recent experience working with Pixar so I finally caved. Hopefully, a lot of you have seen the new Pixar movie "Brave."
BW: I never miss a Pixar film, they really work magic don't they?
AB: They do. If you haven't, you really should. It's a beautiful movie and a beautifully told story. Pretty much nobody knows this, but I was actually so lucky as to have gotten to play the role of the central character of the film, Princess Merida.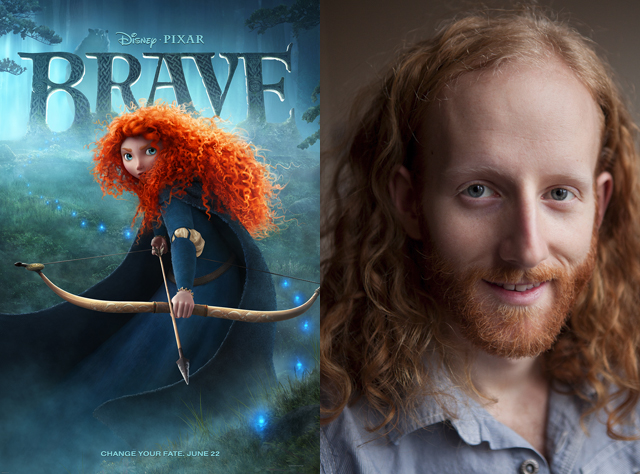 BW: How did that happen? 
AB: A number of years ago, it was '07 or '08, the creator of the project, Brenda Chapman, saw me out in Brooklyn's Prospect Park. I just happened to be dallying with a toy bow and arrow that my good friend and former PoliSub cast mate Jabari Brisport had brought me from a trip to Guyana. Chapman says the moment she laid eyes on me the whole story just immediately took form in her mind.
BW: but the central character of the story is a young girl and you… 
AB: Are not. (both laugh) But across the park, at the right angle, she mistook me for a young woman. It actually happens a lot, with the long hair, kind of a slight frame. We spoke about Scotland and the lack of strong young female role models in animated features. The rest is history.
BW: but you didn't voice the character.
AB: No no! I have a man's voice, even if I look like a little girl. (laughs/cries) The character was voiced by the brilliant Kelly Macdonald, and most people mistakenly believe that the entirety of Pixar's films are computer animated. Normally they are, but my Scottish roots and my flowing locks of curly red were simply not possible to create digitally. So they shot most of the movie on a green screen and then animated everything in around me. 
BW: That's just incredible. I would never have guessed that Merida is being played by a male twenty-something. It's a big risk for you as a performer. I'm tempted to say it was really brave of you. (both laugh) What was your favorite part?
AB: I'm gonna say that my favorite part was getting to finally break through the sexist status quo around princess stories, and really blow up the notion that the only way to live happily ever after is to meet prince charming. You're enough, you have everything you need, you make your own fate, take the reins. I think that's a huge message for girls (and boys!) to hear early in life. Except that boys hear it left right and center. I'm glad I could bring that sentiment to the female half of our future. Oh! And also the scene where the Queen puts me in that too-tight corset. That was a new one for me.  It was wildly uncomfortable, but I have to say, I did look really good. 
BW: Thanks Andrew, for the interview and for being a part of something so beautiful and, hopefully, so important. 
AB: Thank you Barbara. It's really an honor. 
sashafoto likes this
politicalsubversities posted this