My mom, Margie, was very excited when I announced that, because my
best friend Leah was playing, I too would sign up for soccer.  I have
two moms who, in various active ways throughout the 60s, 70s, and 80s,
participated in the women's rights, civil rights, and gay rights
movements of their time.  I was six-years-old in '92 and fiercely
devoted to Barbies, My Little Ponies, Disney Princesses, Making Up Secret Languages, Putting on Puppet Shows, Mr. Rogers, Costumes, andWearing Dresses with Giant Bows to Weddings and Bar Mitzvahs. I showed no athletic aptitude except for an incredible ability to eat.
My mom, Margie, throughout my tenure as a child, could not say enough
for organized sports.  She listed its merits often, like a sacred
lesbian-feminist prayer for the future.  1. It teaches you
sportsmanship.  2. It teaches you to be a team player.  3.  It teaches
you to play in a co-ed environment.  4.  It instills community.  5. It
isn't about how you look.  6. Everybody's equal on the field.   7.  It
is fun.

My parents were torn between their principle ideal— allowing a child
to be who she wants to be, and their other principle ideal— raising a strong woman who will
carry the torch of freedom and truth for other women and, in doing so,
rid the world of misogyny.
My interests were so blatantly femme and my hair so naturally blonde
that there was perhaps a moment there when even my namesake, the
outspoken suffragette Emma Goldman, began to worry her dead self on my
behalf.

But when soccer started, there was assurance.  My moms got to cheer
alongside all the suburban families and I got to wear purple shorts, a
grey t-shirt with matching purple trim, and very high, thick, also
purple, socks.  Everybody was winning.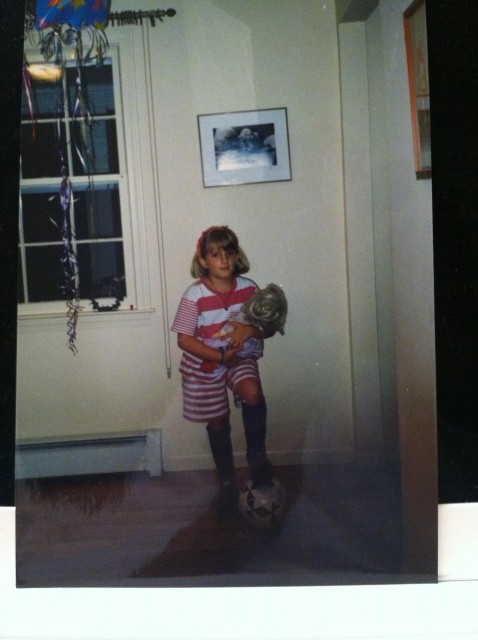 I did not understand the game and rarely knew where the ball was at
any given time or why it was there or whether that was good or bad.
Also, I didn't care.  But when game time came, with all the parents
watching, I dutifully chased the other kids and so, by association,
chased the ball.  It was no secret that the best players on the team
were the fast boys who whizzed by me.  I was always "open", but I was
also chubby, disoriented, and highly verbal.  Hell, I wouldn't pass me
the ball either.
Once, just once, when I was seven years old, I accidentally found my way to the ball during an actual game.Immediately, a tall redheaded boy from the other team was towering over my tangled blonde head, with a birds-eye view of my potbelly, as we eyed the soccer ball at our feet.  I realized in his tremendous shadow that I ALSO wanted to kick the ball and, with a year-and-a-half of previously diffuse frustration now gathered in my tiny right-footed cleat, I kicked that boy powerfully in the shin-guard.  He fell to the ground clutching his tibia.
For one ecstatic moment, with no concept of which goal was whose or
where I was in space, I had the ball at my toe and I kicked it.

The fast boys swooped in to re-direct my kick and the redhead pulled
himself up.  I didn't know which way to run anyhow, so I stood
perfectly still to savor the delicious memory of kicking both a tall
boy and a soccer ball in one perfect fall afternoon.
unpackedbox likes this
politicalsubversities posted this