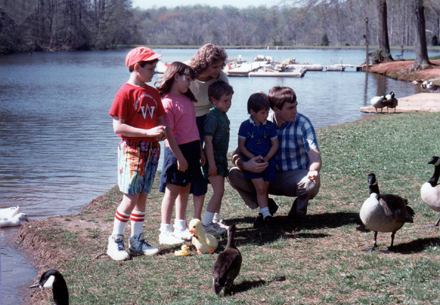 Oh, hi, the internet. Regard the picture above. Is this a family non-stagedly enjoying a Sunday afternoon at the park, innocently inspecting some ducks, or is it RIGHT WING SUBVERSIVE POLITICAL ACTIVITY?!
Technically, it's kind of both, but it was less "subversive" and more "but Dad, I don't WANNA put on frilly socks and go to the park while some weird dude takes pictures of us!" This is my family, 1980, North Carolina. I'm 8 years old and my Dad is running for his first political office. For his campaign, we had to be photographed as a cute and well dressed (save brother Pete's sweet tie-dyed shorts. WHAT?!) family for his campaign materials. In our defense, we were, and continue to be, an adorable family: one part playwright (me,) three parts GIANT SCARY MARINES (brothers.) My Dad was running for Alderman - which, despite our obsessive yard sign campaign, he did not win - but he did go on to be a County Commissioner for 10 years (8 of which, he was chairman of the board.) He then became a state senator, where he still currently serves.
My Dad has been a politician of sorts for as long as I can remember. And he is, wait for it, hold your applause/eggs/tomatoes: A REPUBLICAN. That's right. And I have a lot of respect for him, even though we often don't agree. For years, throughout high school and college, I somehow used the fact that my Dad was in politics as some twisted justification for the fact that I just wasn't interested in it. Them? It. As if the fact that my Dad was a policy maker got me off the hook in terms of making any of my own decisions.
I've now lived on our liberal Island (or the Brooklyn-y part) for going on 8 years, and as I've become more and more educated and opinionated about social and political issues, I've got my Dad in my head. Literally. And there's not a lot of room in there, you guys, because my brain is giant. At times this really complicates things, but ultimately, I'm glad to have him and his views in my headspace, as it keeps me from jumping on bandwagons. It's so easy, when we live in such a liberal community, to jump on these bandwagons. Everyone's really cool on them and has good haircuts and there's usually free drinks. But I think we all have a Republican, or perhaps even a gaggle of them, in our lives that we love, respect, and want to listen to. And I want to say: we should. And now, you may egg my house.  
…
Bekah Brunstetter was born and raised in North Carolina. Her plays include CUTIE AND BEAR (Upcoming, the Roundabout), BE A GOOD LITTLE WIDOW (Ars Nova), and OOHRAH! (Steppenwolf Garage; the Atlantic Theater.) She holds an MFA from the New School for Drama, and is currently writing a new MTV show in Los Angeles. You can thoroughly stalk her at www.bekahbrunstetter.com.