So, your friend posted a picture of the Republican presidential hopefuls to Facebook and tagged you and all of your friends in it. What revelry! You all had a good laugh, and maybe even a few high fives. But now the laughter has subsided and you're home alone staring at this fun image (funmage) and wondering what it all means. Well fret not, I'm here to sort it out for you.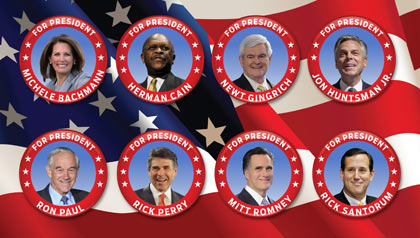 MITT ROMNEY: You are the leader of your friends. And that's probably about it for you as far as personality goes. Much like Robert Johnson sold his soul to the devil for the gift of rock, you traded your personality for the burden of leadership. Way to go, you fucking creep. You probably got tagged as Leonardo in the Teenage Mutant Ninja Turtles picture, too. Have fun designated driving and organizing the wake for whoever got tagged as Herman Cain!
RICK PERRY: Uh oh! You're not the brightest bulb in the multi-bulbed(?) lamp, but you're certainly the one with the most heart. Your friends love you because they compulsively compare themselves to everyone in the group and you set a low bar that they don't have very much trouble clearing. You've also probably thrown up at a time when people aren't usually expected to throw up. Everybody gives you a hard time but they do it out of love and also out of a total lack of respect for you.
HERMAN CAIN: Make way, here comes the party! Cowabunga dudes! You were probably voted "Class Clown" or "Most Likely to Wear a Hawaiian Shirt" if you went to an enormous high school where they had to make up extra superlatives. Your friends love being around you because you're a 24/7 party and because of your tattoo of Garfield smoking a joint.
MICHELE BACHMANN: You're either a girl or you believe in ghosts. 
NEWT GINGRICH: You were a better than average Curly in your high school production of "Oklahoma"  but that's because Curly is an awful character who murders Jud for next to no reason. Something tells me you were also tagged as Sam the Eagle in the Muppet picture. If you haven't already, you will be the first of your friends to marry. You will also be the fourth of your friends to marry.
RON PAUL:  Your friends look to you as a moral compass, which is why you're basically rolling in pussy. You were previously tagged as Ian MacKaye in the obligatory Dischord Records picture.
RICK SANTORUM: The last time everybody got drunk together you hit on whoever was tagged as Michelle Bachmann and after being rebuffed, stormed into the kitchen to sit down and drink so you could "forget this fucking night." No more than five but no less than two of your friends harbor the suspicion that you're secretly an adult baby.
JOHN HUNTSMAN:  (A) Your friends don't know you very well.
     (B) You are John Huntsman.
…
Branson Reese is a comedian and writer based out of New York City. You can see him perform at the Magnet Theater and with The Story Pirates, New York's premier absurdist children's theater company. You can also see him in a mirror if you dim the lights and say his name three times.