A McDonald's in New Zealand has come under media scrutiny after an employee was told he was acting too gay and was asked not to "turn" customers gay.
Bitch, please.  Do you see who's been reppin' your company?
Let's break this shit down.  McDonald's has usually been associated with overweight Midwesterners, but let's face facts. McDonald's is gayer than Liza Minelli in a guest spot on Glee while I'm getting a blowjob from Vin Diesel.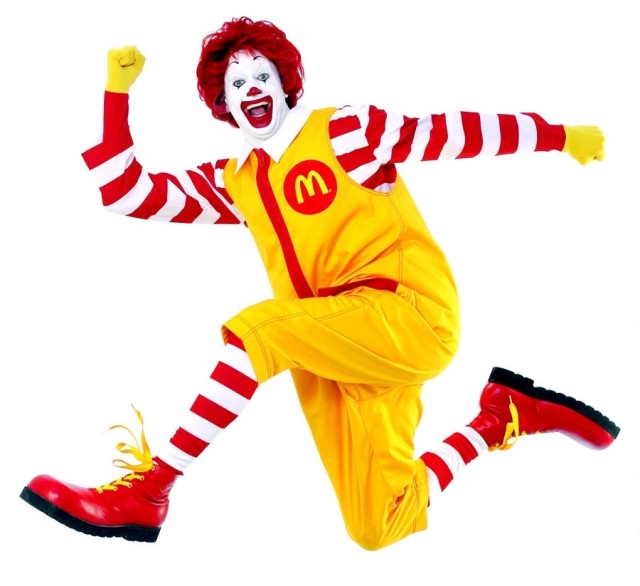 RuPaul is searching for her Next Drag Superstar?  Apparently, she didn't try the ballpit at the her local fast-food chain.  Ronald McDonald is there—up to the neck in balls.
It's ballsy for this fast-food chain to choose a drag queen for its spokesperson.  It's even ballsier that Ronald is still rocking that Marcia-Wallace-circa-Newhart wig, and that the bitch won't even spring for a lace-front. 
And why the yellow overalls?  After 40 years in the business why is Ronald McDonald still acting all Butch-Queen-First-Time-at-The-Ball when she should be serving us some filet-o-fish?
Learn how to beat your face, booger. I can see your contouring a mile away. Your face is the one thing allowed to be SICKENING at a McDonald's.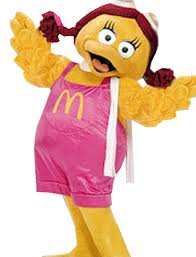 And what a classic fag-hag.  Look at the girl.  She's so excited to go to Therapy with you on Friday night.  Hell, she even finds the unisex bathrooms fun!  She may end the night  before you head over to Posh because that place gets to crowded, and also you seem to be hitting it off with the guy you're with, also she hasn't watched Scandal this week, but she'll text you tomorrow regarding brunch?
Birdie knows all the words to "Let's have a Kiki!" and she can down a whole 20 piece McNuggets by herself.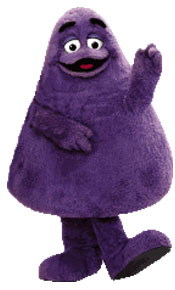 I repeat: Butch-Queen-First-Time-At-A-Ball. 
Grimace comes from a sheltered community in the South so as soon as he moved to New York and he felt comfortable wearing bright colors, he went ALL out saying, "I never got to wear purple at home, but now look at me!"
It's a bit much, but he's expressing himself. And sure, you want to stop him from wondering in to those shops on  8th Ave and 20th, but he's gotta experience for himself.
After he gets crabs from someone he met at The Cock, he will loosen up, put the poppers away and grow up a little. 
Or discover meth?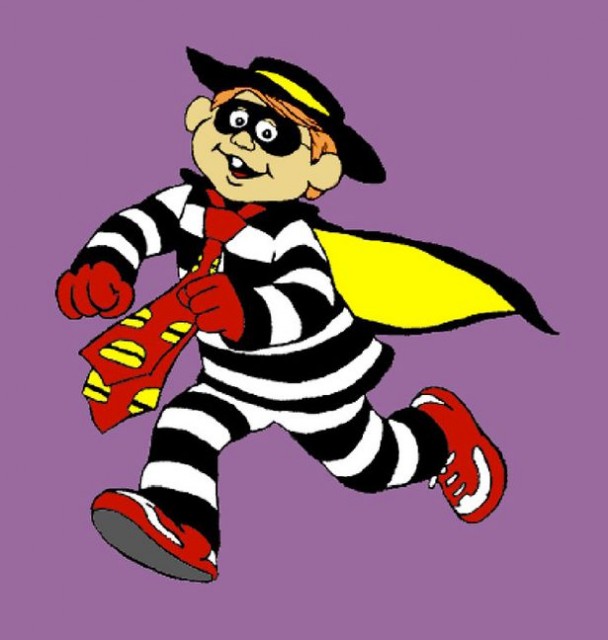 Let's break this one down, hunties.
Sunhat. Moomoo. Cape. Eye Mask. Paula Poundstone Tie.
Also- horizontal stripes?  All T. All Shade.
Finally?  This is something I legitimately own: